Hämta för Linux
Den senaste utgåvan av calibre är 3.41.3. Vad är nytt.
Vänligen använd inte din distributions calibre-paket, eftersom de ofta är felaktiga/föråldrade. Använd istället den binära installationen som beskrivs nedan.
Binary install
calibre har en binär installation som innehåller privata versioner av alla dess beroenden. Den körs på 32-bitars och 64-bitars Intel-kompatibla maskiner. För att installera eller uppgradera, helt enkelt kopiera och klistra in följande kommando i en terminal och tryck på Enter:
sudo -v && wget -nv -O- https://download.calibre-ebook.com/linux-installer.sh | sudo sh /dev/stdin
Medan du väntar på att hämtningen ska slutföras, var god överväg att bidra till att stödja utvecklingen av calibre.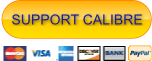 Note
If you get an error about an untrusted certificate, that means your computer does not have any root certificates installed and so cannot download the installer securely. If you still want to proceed, pass the --no-check-certificate option to wget, like this:

sudo -v && wget --no-check-certificate -nv -O- https://download.calibre-ebook.com/linux-installer.sh | sudo sh /dev/stdin

You must have xdg-utils, wget, xz-utils and python ≥ 2.6 installed on your system before running the installer.
Du kan avinstallera calibre genom att köra sudo calibre-uninstall. Alternativt, kan du helt enkelt ta bort installationskatalogen kommer att ta bort 99% av installerade filer.
You need GLIBC 2.17 or higher and libstdc++.so.6.0.17 (from gcc 4.7.0) or higher to run calibre
You can change the directory calibre is installed into from the default (/opt) like this:

sudo -v && wget -nv -O- https://download.calibre-ebook.com/linux-installer.sh | sudo sh /dev/stdin install_dir=/opt

Ändra /opt ovan till vilken katalog du vill att calibre automatiskt installeras till.
Du kan också göra en" isolerad " installation som bara berör filer i installationskatalogen och behöver inte köras som root, så här:

wget -nv -O- https://download.calibre-ebook.com/linux-installer.sh | sh /dev/stdin install_dir=~/calibre-bin isolated=y
Manual binary install or reverting to a previous version
If you wish to revert to an earlier calibre release or download a calibre upgrade manually, download the tarball of that release from here (choose the 32-bit or 64-bit version, as appropriate). Assuming you want calibre in /opt/calibre, run the following command, changing the path to calibre-tarball.txz below as appropriate:

    sudo mkdir -p /opt/calibre && sudo rm -rf /opt/calibre/* && sudo tar xvf /path/to/downloaded/calibre-tarball.txz -C /opt/calibre && sudo /opt/calibre/calibre_postinstall
    
---
Source install
Varning: calibre är en mycket komplex mjukvara med massor av mycket petiga beroenden. Om du installerar från källa, är du på egen hand. Vänligen öppna inte felrapporter eller förvänta dig någon form av stöd. Du har blivit varnad.
Om du fortfarande är fast besluten att installera från källa, läs vidare:
Make sure your system has python 2 installed.
Install the various dependencies listed below
Kör följande kommandon i en terminal:

curl -L https://calibre-ebook.com/dist/src | tar xvJ 
cd calibre*
sudo python2 setup.py install
        
---
Beroenden
The up-to-date list of dependencies that the official calibre binaries are bundled with, can be seen in
sources.json
. While calibre
might
work with versions of dependencies other than those listed there, it is not tested/supported. In addition to those dependencies various build time requirements such as pkg-config, a C/C++ compiler, etc are needed. You can also speed up the "Compiling RapydScript" part of the build process considerably by installing
rapydscript-ng
.