Skaffa calibre portable
The calibre portable build can be run on any windows computer running at least Windows Vista. It is self contained, your calibre libraries and settings are all kept together in one place.
To use, just run the portable installer and select the location where you would like the Calibre Portable folder. To launch calibre, double click the "calibre-portable.exe" program inside the Calibre Portable folder.
Medan du väntar på att hämtningen ska slutföras, vänligen överväg att bidra till att stöda utvecklingen av calibre.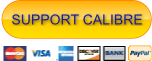 Tidigare utgåvor av calibre finns här.
Uppgraderar
If you want to upgrade a previous version of calibre portable, download the latest version of the installer from here and run it, choosing the location of your previous calibre portable install. The installer will automatically update calibre portable.
Försiktighetsåtgärd
Portable media can occasionally fail so you should make periodic backups of your Calibre library. This can be done by making a copy of the "Calibre Library" folder and all its contents.
Automatisk installation
You can prevent the installer from asking for an install location by running it with a command line argument pointing to the directory for the install. For example:

calibre-portable-installer.exe "C:\Calibre Portable"

Flera bibliotek
calibre Portable kommer bara ihåg bibliotek som placeras inuti den bärbara mappen. Så medan du kan öppna ett bibliotek som ligger var som helst på din dator med calibre portable, kommer den inte att komma ihåg vid omstart om det inte finns i den bärbara mappen (d.v.s. på samma plats som mappen "Calibre Library").