Скачать для Windows
calibre работает в Windows Vista, 7, 8 и 10.

Скачать calibre 64bit
Версия: 3.48.0
Что нового
Зеркало загрузки #1
Зеркало загрузки #2
While you wait for the download to complete, please consider contributing to support the development of calibre.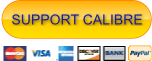 Предыдущие выпуски calibre доступны здесь.
Примечание
64bit calibre can be installed at the same time as 32bit calibre. The two calibre installs will use the same book library, plugins and settings.
If you are using Windows XP please, use calibre 1.48, which works with all Windows XP machines, from here. Simply un-install calibre and install 1.48, doing so will not affect your books/settings.