Contribute to calibre
calibre is a result of the efforts of many volunteers from all over the world. If you find it useful, please consider contributing to support its development. Your contribution helps keep calibre development alive. You can pay using credit cards, PayPal or Patreon.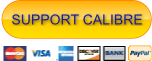 Thank you.
Become a calibre patron
If you would like to contribute regularly to calibre, you can become a calibre patron, by using the Patreon service, the GitHub Sponsors service or the Liberapay service.