Download calibre Portable
The calibre Portable build can be run on any Windows computer running at least Windows 10. It is self contained, your calibre libraries and settings are all kept together in one place.
To use, just run the portable installer and select the location where you would like the Calibre Portable folder. To launch calibre, double click the "calibre-portable.exe" program inside the Calibre Portable folder.

Download calibre Portable
Version: 7.1.0
What's new
Alternate download location
While you wait for the download to complete, please consider contributing to support the development of calibre.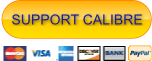 Previous releases of calibre are available here.
Upgrading
If you want to upgrade a previous version of calibre Portable, download the latest version of the installer from here and run it, choosing the location of your previous calibre Portable install. The installer will automatically update calibre Portable.
Precaution
Portable media can occasionally fail so you should make periodic backups of your calibre library. This can be done by making a copy of the "Calibre Library" folder and all its contents.
Automated install
You can prevent the installer from asking for an install location by running it with a command line argument pointing to the directory for the install. For example:

calibre-portable-installer.exe "C:\Calibre Portable"

Multiple libraries
calibre Portable only remembers libraries that are placed inside the portable folder. So while you can open any library located anywhere on your computer with calibre Portable, it will not be remembered on restart unless it is located in the portable folder (i.e. in the same place as the "Calibre Library" folder).